TWO-WHEEL FREEDOM RIDE 2023
Embark on an exhilarating journey with the Two-Wheel Freedom Ride 2023. As passionate motorcycle content creators, we are excited to bring you a unique riding experience that showcases the freedom of two wheels. This carefully planned tour will take you to iconic destinations featured in our popular series, Biker's and Bites, while ensuring an unforgettable journey.
*TICKETS ARE FULLY SOLD OUT
IF YOU ARE STILL EAGER TO JOIN US, FILL UP THE REGISTRATION FORM AND WE WILL PUT YOU IN THE WAITING LIST.
WE WILL INFORM YOU IF ANY SLOTS BECOME AVAILABLE.
Tour Dates:
20th - 22nd October

Tour Duration:
3-day, 2-night trip

HIGHLIGHTS OF THE TOUR
Day 01 - Singapore to Sungai Lembing
Immerse yourself in the vibrant wall art of Kelapa Sawit, feast on the town's famous Prawn Mee and Rendang Chicken Rice, and unwind at Casa Hill Resort in Sungai Lembing.
Day 02 - Sungai Lembing to Genting Highlands
Start the day with a breathtaking sunrise view from Sunrise Hill, relish a meal at Tanah Aina Fareena Cafe in Bentong, and finish the day at the Grand Ion Deleman in Genting Highlands.
Day 03 - Genting Highlands to Puteri Harbour
Begin with a photo shoot near Grand Ion Deleman, enjoy lunch at Genting Permai, and conclude the tour with a memorable dinner at Spice Grill, Puteri Harbour.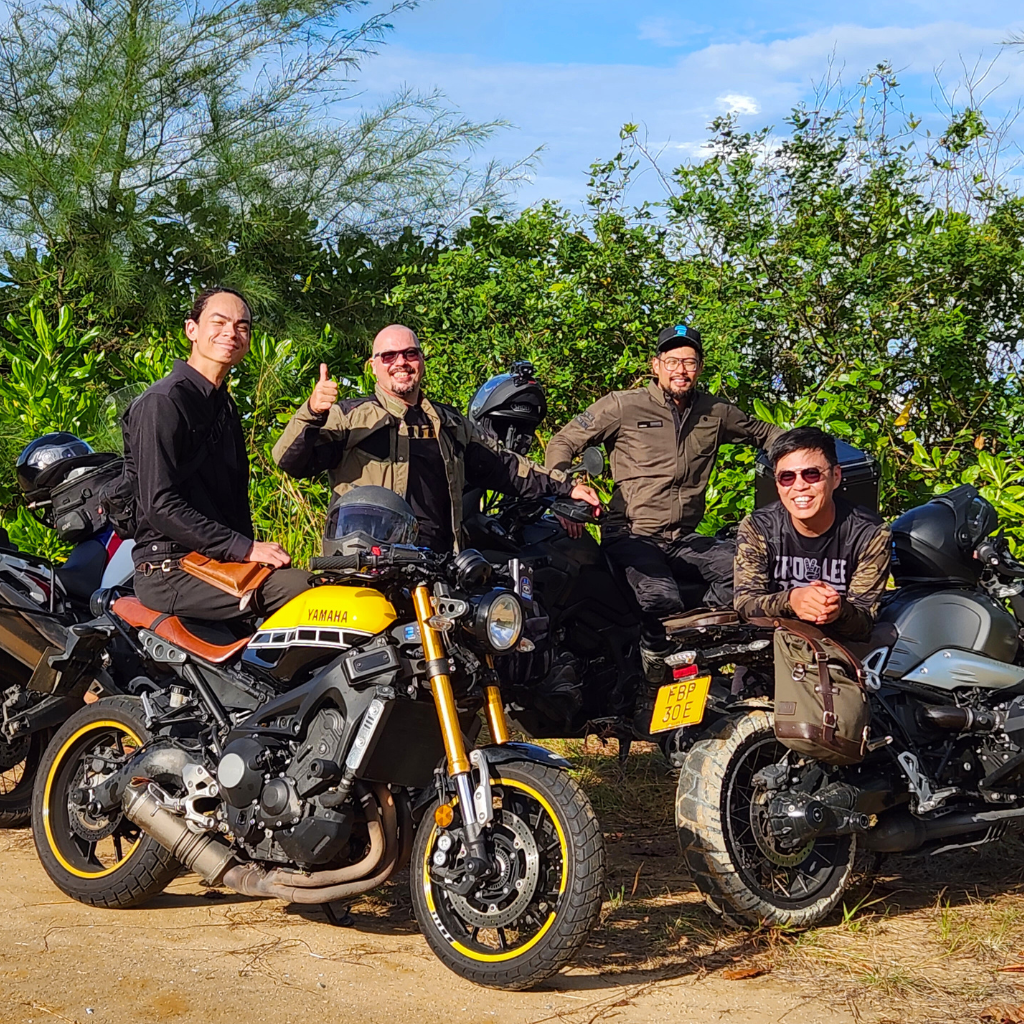 Insurance Requirement: All participants must possess a valid motorcycle insurance policy during the road trip, covering them throughout West Malaysia.
Due for renewal soon? Switch to DirectAsia Insurance today. DirectAsia Insurance motorcycle insurance plans allow you to customize your coverage to your needs. Enjoy add-ons like 'Any Rider Optional Benefit' and 'NCD Protector Plus Optional Benefit', plus an additional 'NCD30' discount as a safe rider. Coverage extends to Singapore, throughout West Malaysia, and 80 km into southern Thailand.
Sign up now with TRI333PLE exclusive promo codes and receive free eCapitaVouchers:
Use 'VERYOK60' for Comprehensive plans and get a $60 eCapitaVoucher.
Use 'VERYOK30' for Third Party Only (TPO) and Third Party Fire & Theft (TPFT) plans and get a $30 eCapitaVoucher.
*Terms and conditions apply.
Safety and Support:
Your safety is our priority. We have taken the necessary measures to ensure a secure and supported ride. The tour will be divided into smaller groups, each led by an experienced biker and accompanied by a sweeper at the back. In case of any emergencies, a safety vehicle with a certified medic will be available. Additionally, an advanced vehicle will assist with luggage handling and hotel check-ins for a smooth and hassle-free experience. Please watch the safety briefing sent via YouTube link two weeks before the trip to familiarize yourself with important safety guidelines.

Complimentary Pre-Ride Check-up by Black Industry:
In our commitment to your safety and riding pleasure, we have partnered with Black Industry to provide a free motorcycle pre-ride check-up. By appointment only, make sure your bike is ready for the long journey at their workshop located in Synergy Building. Secure your appointment today for peace of mind on your adventure.

Exciting Lucky Draw:
DirectAsia Insurance generously sponsors a chance to win up to $1,000 worth of eCapitaVouchers. Winners will receive a physical letter at the event announcing their prize.

Pricing and Inclusions:
$788 for 1 Motorcycle without Pillion (Single Room)
$1388 for 2 Motorcycles with 2 Riders (Twin Share)
$1168 for 1 Motorcycle with Pillion (Twin Share)

The prices include accommodation, selected meals, guided tours, petrol and exclusive experiences throughout the trip. In addition, each participant will receive a goodie bag worth $200 as part of their registration.

Register and Payment:
To ensure the safety and enjoyment of all participants, registration is open exclusively to Class 2 and Class 2a Bikes only.
Secure your spot now by filling out the registration form in the link below. Once you've completed the form, you will be directed to the payment page to secure your slot.

Please read our Terms & Conditions before submitting your registration.
*TICKETS ARE FULLY SOLD OUT
IF YOU ARE STILL EAGER TO JOIN US, FILL UP THE REGISTRATION FORM AND WE WILL PUT YOU IN THE WAITING LIST.
WE WILL INFORM YOU IF ANY SLOTS BECOME AVAILABLE.

For any inquiries, please email us at info@tri333ple.com or contact us via WhatsApp at +6586879438.